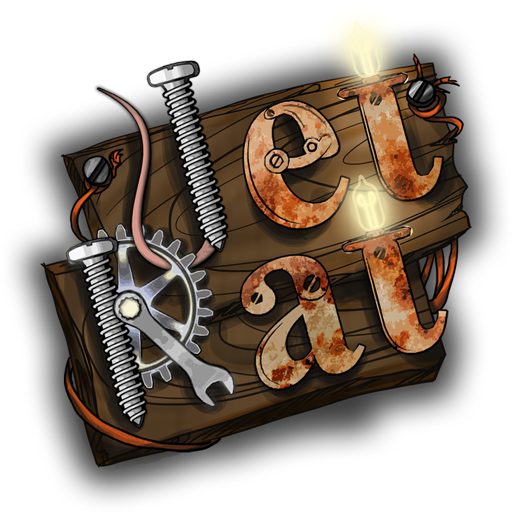 Jet Rat - Prototype #1
A downloadable game for Windows
Digital Rat Invasion! -- Enter Jet Rat, a new platformer RPG
We'd like to invite you to a "rattastic" adventure to Ratlantic City, Jewel of the Sewers, "where the blessing always flows!"We are the Angry Cat Studios team, presenting you the early prototype of our new "steamjunk" game Jet Rat, in which rats can indeed fly!
SHORT DESCRIPTION
Jet Rat is a "steamjunk," story-driven action-platformer-RPG set in a unique, rattastic world full of mischief, heroism and secrets, in which you create your very own rat to embark on a journey to save Ratlantic City from the evil of its corrupt mayor, Hector LeBlanc the Third.
TAGLINE
"A mechanic falls. A hero rises. A legacy continues."
MAIN FEATURES
Physics-based 2D puzzle-platformer
Cartoonish, hand-drawn "steamjunk" art style
Role-playing elements: character attributes, inventory system, skills, crafting
Fully customizable player character, interactive itemization
Original story with memorable NPCs, main and side quests, lots of twists
Jetpack! Yes! Rats can fly! (Mind you, gravity still applies...)
Humor and drama. Take your pick.
ABOUT ANGRY CAT STUDIOS
Angry Cat Studios was founded in 2015 with 5 members. Our first game was Ultimate Space Commando, published on Steam in May 2015, developed by our lead developer Aliza Wenders in solo at that time. In the next year we experimented with a few prototypes in a search for our next project, including a little sneak peek into the Android platform that resulted in our free-to-play app PROBE. Once again, we're back into the world of PC games to bring you a rattastic platformer RPG! Currently we have 6 colleagues: the lead developer/game designer, a graphic artist, a CEO/marketing manager, a marketing assistant/"mechanic", an office manager, and a co-owner/cameraman with great visions ;-). Though we are a very small company, we are still triple A: adorable, angry and authentic ;-)!
CREDITS
Lead developer / Programmer / Game designer: Aliza Wenders
Lead graphic artist: Derwen Llewelyn
Tester / Marketing assistant: Lev
Marketing manager / Managing director: Szilvia Szűcs
Co-owner / Cameraman: Figusz
Office manager: Ancsika
---
Go to presskit: http://jetrat.angrycatstudios.com/presskit.php
Dead can dance and rats can fly, see the Jet Rat website, bye!
Visit website: http://jetrat.angrycatstudios.com
Copyright © 2017 Angry Cat Studios, All rights reserved.
Download
Download
Jet_Rat_Demo_1_Install.exe
62 MB